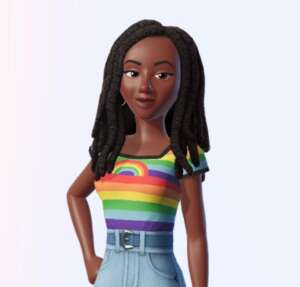 Monica is the Chair of the PIPO committee of OA Foot Steps, the Co-Chair of Unity with Diversity at World Services, and a WSBC delegate.
Q: What Is the Goal and aspirations of the PIPO unity with Diversity?
A: The mission is to attract & draw in, compulsive eaters to OA, and to attract people from under represented communities in OA. For example, I'm from Detroit which is the most densely populated Black city outside of Africa, and there are very few Black people that I see in OA Foot Steps. I love OA and OA Foot Steps, and it's our goal to share the message, and make it a welcoming place to all members of our communities. I just use African American or Black community as an example, but it applies to Latino, Indigenous, LGBTQ+, and people of different spiritual background. While we are about attraction and not promotion, we can still do outreach. That is the role of the Public Information Professional Outreach (PIPO) committee. We can reach out to health professionals, health organizations, distribute flyers at events, advertise on buses, billboards, papers, radio and OA. org.
Q: What is diversity for you?
A: I'm not for diversity for the sake of diversity so that we can be the colorful program. I am for diversity, because I am for fairness and equality. For me, OA is for health: Spiritual health, physical health and mental health. I don't want to close that off to any group because they haven't heard of us, or because we are not welcoming to them for whatever reasons. If OA is for straight white women, then it's closing it off to a whole segment of society. That is neither fair nor equal. It's a matter of equality. In my opinion, OA is one of the best organization in the world, and I don't want to just keep that for myself. I want to share it with everyone, and segregation, discrimination, biases, whether conscious or unconscious, can be a barrier to spreading the message.
Q: Do you educate about biases inside the fellowship?
A: I do. Recently, I did a recorded qualification for the Daily Reprieve 5am meeting. I shared about my experience as a WSBC delegate. I was shocked to see that out of 178 delegates, the majority were white older people. I asked the trustee elects, what their plan was to attract people from diverse backgrounds. Specifically, Black, Latino, Indigenous people, and pretty much everyone had no clue, and hadn't thought it through. I was really happy to plant that seed. I believe that having planted that seed may have started some more reflection and action. There is a "Unity with diversity committee" at the World service level that I joined. We are doing a lot of things whether it's literature, encouraging people to think about whether their region, intergroup, or meetings are being welcoming to newcomers from diverse areas. We also have literature on "How to" build meetings in more diverse areas. I think that OA, as a whole, is growing in terms of openness, willingness, and taking action to making things more equal in terms of getting the message out to different cultures, races, religions or spiritual practices. We are getting better. We are not there yet, and we may never be. We just have to be conscious and ask ourselves "are we being a welcoming place for everyone"?
Q: What is your story in OA:
A: I have an auto immune disease where my immune system attacks my muscles. As a result, I had to take steroids that caused me to gain some weight. On top of that, I started nursing school. That caused me to gain even more weight. I would just sit and study at a coffee shop, and eat all of the pastries. I got up to almost 200 pounds. The heaviest I had ever been in my life. I was really obsessed with weight loss, and at the same time still wanted to eat everything I wanted. That was a real contradiction. One day, I was sitting on the couch after work, knitting a sweater and listening to a podcast about weight loss. The podcasters mentioned, in passing, that OA could be helpful for some people. The second I heard Overeaters Anonymous, my life changed. I jumped on google to find out what it was. I was in AA but had never heard of OA. I just knew this was it! I went to my first meeting online the next day during Covid. Later, someone mentioned Foot Steps in a meeting, and that was it. I have been here for over 2 years, and I am almost at a healthy body weight. I have about 2 more pounds to lose, but it is more about maintaining my life in the right direction. I have chaired the sponsorship committee. I'm on the twelve steps within committee. I'm the PIPO chair, and lead the mental health meeting at 1pm EST Wednesdays. I helped start the 6 am daily meeting, and many other service positions. I try to give as much as I can to Foot Steps and OA. I'm practicing service at every level.
OA is a game changer in my life. I was miserable as a lawyer. That is why I started nursing school. However, I flunked nursing school because I was isolated and didn't ask for help. Had I been in OA, I probably would not have flunked out. I found a decent job as a lawyer, and I would do 2 way prayers, that I learned in Foot Steps. I would pray for a better job. And when the better job came along, I prayed that I would stay alive, flow, and survive at that job. I would pray that I would be selected for this really good job that I am at right now. I stayed in close conscious contact with my HP through the 2 way prayer, and I continue to do that as needed. I also do 10th steps with people. I really believe that OA helped build my confidence in being able to get this job that I have right now. OA has given me the confidence to truly believe in myself and I know that if I fall, I have a HP, community and friends that will support me and love me no matter what.
Q: You wrote a story in "Diverse voices". What is that about?
A: The name of the story is "BIPOC & Agnostic in Detroit". I wrote a story about (1) what is my concept of a HP as I don't have a traditional relationship. I used to be atheist and now I'm spiritual. So, I'm spiritually agnostic. This program told me that I can have a HP of my own understanding, so I embraced that. (2) I wrote about my mental health. I'm very open about the fact that I'm Bipolar. I have depression, anxiety, and ADHD. I take medications and I'm very stable now. I wasn't always stable, and OA is a form of mental therapy. Even my therapist encourages me to stay in OA. Also, I believe that getting at a healthy body weight is a form of physical therapy. (3) I also talk about Detroit as there is a growing Latino population, in addition to a huge Black population. I had never heard of OA despite living in Detroit for 39 years. So, I'm trying to start a meeting there. World Services just voted to use this book as an official OA book. There are so many stories from diverse people like gay, lesbian, jewish, transgender, bisexual, freethinkers, atheist, etc… I'm excited about this book.
Q: Is it your experience that there is limited literature in OA for mental health issues?
A: Not necessarily. OA Foot Steps has a lot of meetings about mental health and different spiritual practices such as mental health meetings, freethinkers, etc.. All of the sponsors I have had were aware of my mental health issues, and have helped me with my issues through the program. Eventhough the literature might not explicitly say the word Bipolar, it doesn't have to. For example "For Today" and "Voices of Recovery" has so much information about fears. Anxiety and ADHD, I feel, is about the fear being heightened. It's like a real strong neurological fear that is ingrained. It can be overcome but you have to fight even harder to overcome it. The available literature has helped me, because you can see how people identify their fears, address their fears, face their fears, and overcome their fears. The literature also encourages you to seek health professionals. You have to come at it from every angle. You have to come at it from the medication angle, if that works for you. You have to come at it from the therapy angle. You have to come at it from the OA angle. I believe that OA has been a very big part of my mental health recovery.